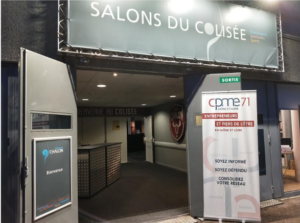 For the second time, « Moules et Outillages de Bourgogne », specializing in the design of tools for the investment casting, participated in the CPME annual professional fair to promote its new 3D equipment (3D printing, 3D scanning , reverse engineering…).
The historical activity of "Moules et Outillages de Bourgogne" is the manufacture of molds for the investment casting, for fields as demanding as aeronautics, medical or energy. But this event allows us to let local businesses know about our 3D printing and 3D scanning equipment that can provide a solution or a complementary service in sectors other than the injection of wax models.
The CPME (Confederation of Small and Medium-Sized Enterprises of Saône et Loire) trade fair brings together different actors: business leaders, creative and impactful who wish to share their know-how and establish interesting contacts.
Discovery, innovation and sharing are the key words of this event which gave our teams the opportunity to meet future customers of the company and present our company to them while answering their questions about our technologies.
In particular, we were able to bring our Atos Triple Scan 3D in order to carry out some demonstrations and allow visitors to understand the reverse engineering process.